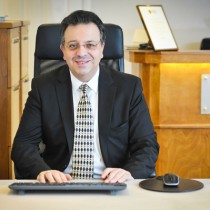 Founder of De Vere Letting Bureau based in Barnet, formed the business in late 1992 and has since dedicated his entire working life to offering the best possible service to his clients- both old and new.
Paul has considerable experience in the local market having worked in the Barnet area for over twenty years and gained a wealth of knowledge in his dealings with many local businesses and entrepreneurs who have worked in tandem with Paul and his loyal team for many years.
As a result of the above, both Paul and De Vere Letting Bureau, Barnet have not only gained an enviable reputation in the area for offering exceptional service, they also have a loyal and trusted following from Landlords and Tenants alike which has enabled the business to grow and flourish.
Although the De Vere team are fully focussed on the business, Paul remains very much involved with the day to day running and is always available for advice.
Paul is pleased to announce that De Vere Letting Bureau, Barnet is expanding the service portfolio to include a new Sales and Investment Department. This will ensure that De Vere is able to facilitate all clients' needs and expectations within the Property market. 'I look forward, with renewed enthusiasm, for De Vere to continue to offer the unrivalled personal attention that has become our trademark.'
email: info@devere-letting.com
---
Send a Message